resetting toner cartridge brother printer
Brother Toner Printer – How To Reset The "Toner Life End" Message
Hey guys, If you have come here today then there is one thing I need to cover, So let get to it.
If you have just replaced the toner cartridge in your Brother printer, and a "replace toner" or "toner low" warning message still keeps coming up, Grab a coffee – there is a solution! You may have tried everything, including taking the toner cartridge out, checking all is working correctly and that all the packaging has been removed. You may have switched your printer off and back on again, but the message hasn't budged. You may even have tried shaking the cartridge from side to side – just in case! The user manual isn't much help in this situation, and the main problem is that, even though you know the printer has a brand new toner cartridge, the printer refuses to print! how to fix your brother printer toner cartridge coming up.
About Brother Toner Cartridges
You can relax now, help is here! The truth is that most Brother toner printers need to be told that the toner cartridge has been replaced. This means manually resetting the counter, and fortunately this is an easy thing to do. We've created a handy list of Brother toner printers, and the steps to reset the toner count in each of them.
Resetting the "Toner Life End" or "Replace Toner" message on the Brother HL monochrome (black and white) printer:
Open the front cover, and keep it open while you take the following steps.
Switch off the printer.
Hold down the "Start" or "Go" button while turning on the printer. All of the panel lights should now be on.
Release the "Start" or "Go" button.
Now, press the "Start" or "Go" button twice.
Wait for a moment. The panel lights should all be on again.
Now, press the "Start" or "Go" button five times. At this point, the toner light should be off, although the "error" may be flashing. The paper light should be on or at least flashing at this point.
You are ready to close the cover, and the "Ready" light should be the only light that is now on.
Resetting the "Replace Toner" or "Toner Life End" warning message on the Brother MFC monochrome (black and white) printer:
Open the door, and then press the Clear/Back key.
Now press *00
Next, press "OK".
When the drum replacement menu comes up, don't choose anything for drum replacement, instead press * and then 00, and then "OK".
Resetting The "Replace Toner" or "Toner Life End" warning message on the Brother DCP, MFC and HL colour printer:
Open the toner access door while the printer is switched on. You will see the "Cover is Open" message on the LCD screen of your printer.
Bring up the "Reset Menu" by pressing the "Clear/Back" button.
Once you are in the Reset Menu, scroll through the reset options for the printer's toner cartridges. You will be given rest options for all four of the colours: BK; C; Y; and M. If you have a printer that takes standard yield and high yield cartridges, you will see an option to reset either one of these.
Once you have selected the correct colour and size of the toner cartridge, press "OK".
Each cartridge needs to be reset individually. To reset, press "1".
Now press "Clear/Back" to exit the menu, and finally, close the door.
You're ready to go!
If you need new Brother Ink and Toner, or drop me a comment
Below is some information on brother printers in case you are interested..
Brother Printers
For more than 100 years, Brother has been developing high quality electronic products throughout the world. Forming in Japan in 1908, the company originally specialised in sewing machines, but has adapted its primary output to evolving technologies. Since moving its UK headquarters to Manchester in 1968, Brother's main focus has been laser printers.
At Printerland, we stock a wide range of Brother printers, fax machines and consumables. The diverse range of products has been developed to accommodate many of the requirements of the modern business environment or home office.
Brother Printers for the Home
Designed to be intuitive and simple to use, Brother printers are well-suited for casual and professional users alike. Clear on-screen menus and one-touch functionality help provide a plug-n-print machine. At stationery shack we stock a huge range of Brother Colour Laser Printers well-suited to the demands of the home office.
Accommodating large, cost-effective ink and toner cartridges, Brother can help cut the costs of printing at home. The Brother Printer Ink and Toner Cartridges range from Stationery Shack can help you keep your Brother printer well-stocked and producing high-quality colour and monochrome prints.
Brother Printers for the Office
At Stationery Shack, we stock a range of Brother Multifunction Printers which are well-suited to the demands of the modern office environment. Providing print, copy, scan and fax functions, the range can help office workers perform a comprehensive range of tasks quickly and efficiently. Without compromising quality, the multifunction units from Brother can help remove the necessity for multiple machines in the office.
Brother produce a diverse range of non-traditional printer and office products as well, serving a greater volume of workplaces and responsibilities. The Brother Label Printers and Brother Mobile Printers are well-suited to specialist tasks and on-site professionals. At Printerland, our Brother-trained specialists can help answer any questions or queries you may have about our range of Brother products or how to get the most out of your printer.
Get the right Brother for You
Brother focuses on creating energy efficient, cost and time saving devices to match the requirements of any business or home user.
Eco-Friendly
When it comes to environmental impact, Brother goes the extra mile to ensure its products not only meet the strict regulations expected but surpass them wherever possible, meaning that your business is sure to reap the rewards from energy efficiency, productivity and longer lasting equipment.
State of the Art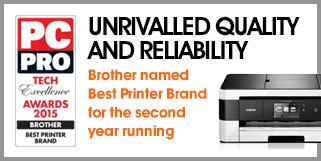 Brothers approach to its technology also stands up proudly against the biggest players in the print market. Providing top quality products with the latest in technical advancements, you can be sure that your Brother printer purchase will perform at a level unsurpassed by its rivals from your very first print.
Colour and Mono Laser Printers
Brother's extensive line-up of laser printers consists of some of the most affordable and productive machines in its class
Multifunction Printers
Brothers MFP range provide the same high quality, performance and affordability as the standard colour and mono models, with the added benefit of extra functionality including copy scan and fax.
All-in-one Inkjet Printers
even the individual user can benefit with Brother's attention to design and productivity extending in to the home office. Further your boundaries with borderless, lab quality photographs and the same flexible functionality of a multifunction device. Brother inkjet multifunction printers fit easily on to the desktop and with sleek design thrown-in, home printing has never been so fashionable.
Brother AX Ink Cartridges
Brother AX-10 ink
Brother AX-100 ink
Brother AX-110 ink
Brother AX-120 ink
Brother AX-410 ink
Brother AX-425 ink
Brother AX-430 ink
Brother DCP Ink Cartridges
Brother DCP-110C ink
Brother DCP-111C ink
Brother DCP-115C ink
Brother DCP-117C ink
Brother DCP-120C ink
Brother DCP-130C ink
Brother DCP-135C ink
Brother DCP-145C ink
Brother DCP-150C ink
Brother DCP-153C ink
Brother DCP-157C ink
Brother DCP-163C ink
Brother DCP-165C ink
Brother DCP-167C ink
Brother DCP-195C ink
Brother DCP-197C ink
Brother DCP-310CN ink
Brother DCP-315C ink
Brother DCP-330C ink
Brother DCP-340CN ink
Brother DCP-340CW ink
Brother DCP-350C ink
Brother DCP-357C ink
Brother DCP-365CN ink
Brother DCP-375CW ink
Brother DCP-377CW ink
Brother DCP-385C ink
Brother DCP-395CN ink
Brother DCP-540CN ink
Brother DCP-560CN ink
Brother DCP-585CW ink
Brother DCP-6690CW ink
Brother DCP-770CW ink
Brother DCP-J125 ink
Brother DCP-J132W ink
Brother DCP-J140W ink
Brother DCP-J152W ink
Brother DCP-J315W ink
Brother DCP-J4110DW ink
Brother DCP-J4120DW ink
Brother DCP-J515W ink
Brother DCP-J525W ink
Brother DCP-J552DW ink
Brother DCP-J562DW ink
Brother DCP-J715W ink
Brother DCP-J725DW ink
Brother DCP-J752DW ink
Brother DCP-J785DW ink
Brother DCP-J925DW ink
Brother Fax Ink Cartridges
Brother Fax-1020E ink
Brother Fax-1030E ink
Brother Fax-1355 ink
Brother Fax-1360 ink
Brother Fax-1460 ink
Brother Fax-1560 ink
Brother Fax-1840C ink
Brother Fax-1940CN ink
Brother Fax-920 ink
Brother Fax-930 ink
Brother IntelliFax-1025MFP ink
Brother IntelliFax-1170 ink
Brother Fax T Ink Cartridges
Brother Fax-T104 ink
Brother Fax-T106 ink
Brother Fax-T74 ink
Brother Fax-T76 ink
Brother Fax-T94 ink
Brother Fax-T96 ink
Brother HL Ink Cartridges
Brother HL-S7000DN ink
Brother HL-S7000DN100 ink
Brother HL-S7000DN50 ink
Brother HL-S7000DN70 ink
Brother LW Ink Cartridges
Brother MFC Ink Cartridges
Brother MFC-210C ink
Brother MFC-215C ink
Brother MFC-235C ink
Brother MFC-240C ink
Brother MFC-250C ink
Brother MFC-255CW ink
Brother MFC-260C ink
Brother MFC-295CN ink
Brother MFC-410CN ink
Brother MFC-425CN ink
Brother MFC-440CN ink
Brother MFC-465CN ink
Brother MFC-490CW ink
Brother MFC-5440CN ink
Brother MFC-5460CN ink
Brother MFC-5490CN ink
Brother MFC-5840CN ink
Brother MFC-5860CN ink
Brother MFC-5890CN ink
Brother MFC-5895CW ink
Brother MFC-620CN ink
Brother MFC-640CW ink
Brother MFC-6490 ink
Brother MFC-6490CW ink
Brother MFC-680CN ink
Brother MFC-6890CDW ink
Brother MFC-845CW ink
Brother MFC-885CW ink
Brother MFC-990CW ink
Brother MFC-J265W ink
Brother MFC-J410 ink
Brother MFC-J415W ink
Brother MFC-J430W ink
Brother MFC-J4410DW ink
Brother MFC-J4420DW ink
Brother MFC-J4510DW ink
Brother MFC-J4610DW ink
Brother MFC-J4620DW ink
Brother MFC-J4625DW ink
Brother MFC-J470DW ink
Brother MFC-J4710DW ink
Brother MFC-J480DW ink
Brother MFC-J5320DW ink
Brother MFC-J5330DW ink
Brother MFC-J5335DW ink
Brother MFC-J5620DW ink
Brother MFC-J5625DW ink
Brother MFC-J5720DW ink
Brother MFC-J5730DW ink
Brother MFC-J5910DW ink
Brother MFC-J5930DW ink
Brother MFC-J615W ink
Brother MFC-J625DW ink
Brother MFC-J650DW ink
Brother MFC-J6510DW ink
Brother MFC-J6520DW ink
Brother MFC-J6530DW ink
Brother MFC-J6710D ink
Brother MFC-J6710DW ink
Brother MFC-J6720DW ink
Brother MFC-J680DW ink
Brother MFC-J6910DW ink
Brother MFC-J6920DW ink
Brother MFC-J6930DW ink
Brother MFC-J6935DW ink
Brother MFC-J825DW ink
Brother MFC-J870DW ink
Brother MFC-J880DW ink
Brother MFC-J985DW ink